First the big news about Frontier fiber optics high speed internet

According to Mark Abrams, Frontier Communications, Kingman, we will get HIGH SPEED fiber optics to Meadview within a year.   Currently the only holdup is getting the permits (easements) from BLM (and state?) and from one private property owner to run the fiber optics line up to Meadview.  Unfortunately, BLM is SLOW and the paperwork is at the bottom of the stack and it can take half a year just to get the permits.
Could District 4 Supervisor Jean Bishop contact BLM to request expedited processing?
Frontier internet service is currently NOT available to Meadview residents who don't already have the super SLOW DSL with a max 1 mbps download (500 – 700k on average).
Considering this dire situation — NO unlimited data internet available for Meadview residents, I think we deserve priority processing.
A Meadview resident who recently moved was offered the fantastic price of less than $40 for a Frontier phone line, unlimited long distance + DSL when he signed up for electric service with Unisource.  I have no idea why/how Unisource sells services for Frontier.
Then he stayed at his new home ALL DAY waiting for Frontier to set up service.  They didn't show up.  When he called, they told him that they cancelled the appointment because they couldn't reach him by phone.  HUH???   He was waiting for them to set up his phone service.  Are we now REQUIRED to be tied to a cell phone 24/7 to get a landline?
Next, he had to reorder with Frontier and his total bill was to be over $60.  They did NOT honor the Unisource special price.   Once again he was to get phone service and DSL.   Once again he got NOTHING.   Eventually they informed him that DSL was not available in Meadview for new customers.  And now he's waiting for me to get Verizon internet and then he can get my DSL service moved to his house.
Verizon 4G Lite high speed wireless internet
My neighbor had purchased prepaid data from Verizon Wireless along with a little $50 modem gadget at Walmart.   I tested it at my house and I got around 8 mbps.  Since it's almost impossible to maintain websites on the slow Frontier DSL, I decided to try it and I got the Ellipsis Jetpack MHS800L™ for $50. If you sign up for a 2-year contract it's currently $1 Certified Preowned and it's $30 new.
I also purchased 5 gb of data for $60 on NO plan because I wanted to try it out.
Verizon currently offers free activation for PLANS at http://www.verizonwireless.com/prepaid/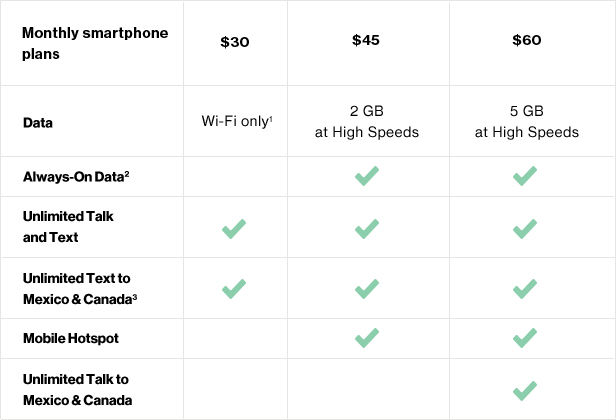 1Smartphone Wi–Fi plan does not support data package purchase options.
2Once high speed data allowance is used, Always–On Data allows you to continue using data speeds limited to 128 kbps at no additional charge for the rest of the month. Your data experience may be impacted and functionality of some data applications may be impacted like streaming video or audio unless you purchase additional add on data.
3Unlimited Text to anyone on any network from the U.S. to Mexico, Canada and Puerto Rico.
4Only available on $30 and $45 smartphone plans and $30 basic phone plans.

Get the device you want on the best Network with No Annual Contract.
It's easy, just pick a plan that suits you.

$45/mo Smartphone plan with Unlimited Talk, Text & 2GB of high–speed data
Never run out of data with Verizon Prepaid, stay connected at low–speeds even after you have used your high speed data with Always–On Data
Now Unlimited Calling to Mexico and Canada included with our $60/mo Smartphone plan
Earn 1GB of bonus data monthly with Auto Pay enrollment*
No annual contract. No hidden fees.

*$45 or $60 monthly Smartphone plan req'd. 1GB bonus data applied upon first Auto Pay payment. Bonus data applied per month as long a customer stays active on eligible plan.
For $60/month you get 5 GB of data (6 GB with outpay) and I was very excited about the new "never run out of data" feature, but be aware that the speed is only 128 kbps — that's even slower than the Frontier DSL (most of the time).

I really like that the EXTRA data is good for THREE months!
As I'm writing this post I'm reconsidering signing up for their regular plan — have to run the numbers.  The regular plan carries over unused data to the next month, but it's used AFTER your plan data is all used up!  Not good …
Verizon SPEED
I only used Verizon a few times at the Collectors Corner (Sundays 1 – 4 pm, bring your gardening questions!) and to do some web work at home.   I've never gotten less than 5 mbps when I tested the download speed, but it's not 5 or more times faster than the Frontier DSL because it takes time to connect to a web server and how fast a page downloads depends on the website you're visiting.   HOWEVER, when it comes to up- or downloading PICTURES or VIDEO Verizon is so much faster.   And sometimes a page loads so fast, I don't even realize that it's loaded, am so used to waiting.
Data usage
I bought 5 gb of data and I keep a log of the data used when I connect to Verizon.  The last time I used Verizon I lost 1/2 gb of data doing practically NOTHING.  I looked at a few web pages, what happened?   I just tried to call Verizon, but all their links to "contact" go to "We're sorry, this page no longer exists."  At the bottom of this page is another CONTACT link that gets me the same error page. And that's VERY typical for the Verizon Wireless website.  In fact, when I ordered the prepaid data and the Ellipsis I had to order by phone because their web credit card processing was not working at all.  It is astounding that a huge company like Verizon can't design a more functional website.
On the bright side, I went to the Verizon CHAT and while it took a while, the rep saw that the data was deducted from my account, but there was no record of where it went! 
He promptly credited back the data and I'm now taking the plunge, will port my landline to Verizon, go on the new data plan and quit the Frontier DSL landline and data.
I am aware that I won't be able to watch Netflix or lots of YouTube videos and I will install an ad blocking plugin for Firefox.   And I won't be visiting sites like Drudge that constantly reload very often.   I also hope I can find a plugin to NOT automatically start playing video on web pages.
Subscribe to get email notices of new posts including my update on how it all worked out for me.
I'm already looking forward to get the Frontier "new customer" special promotional pricing when the fiber optics internet becomes available.